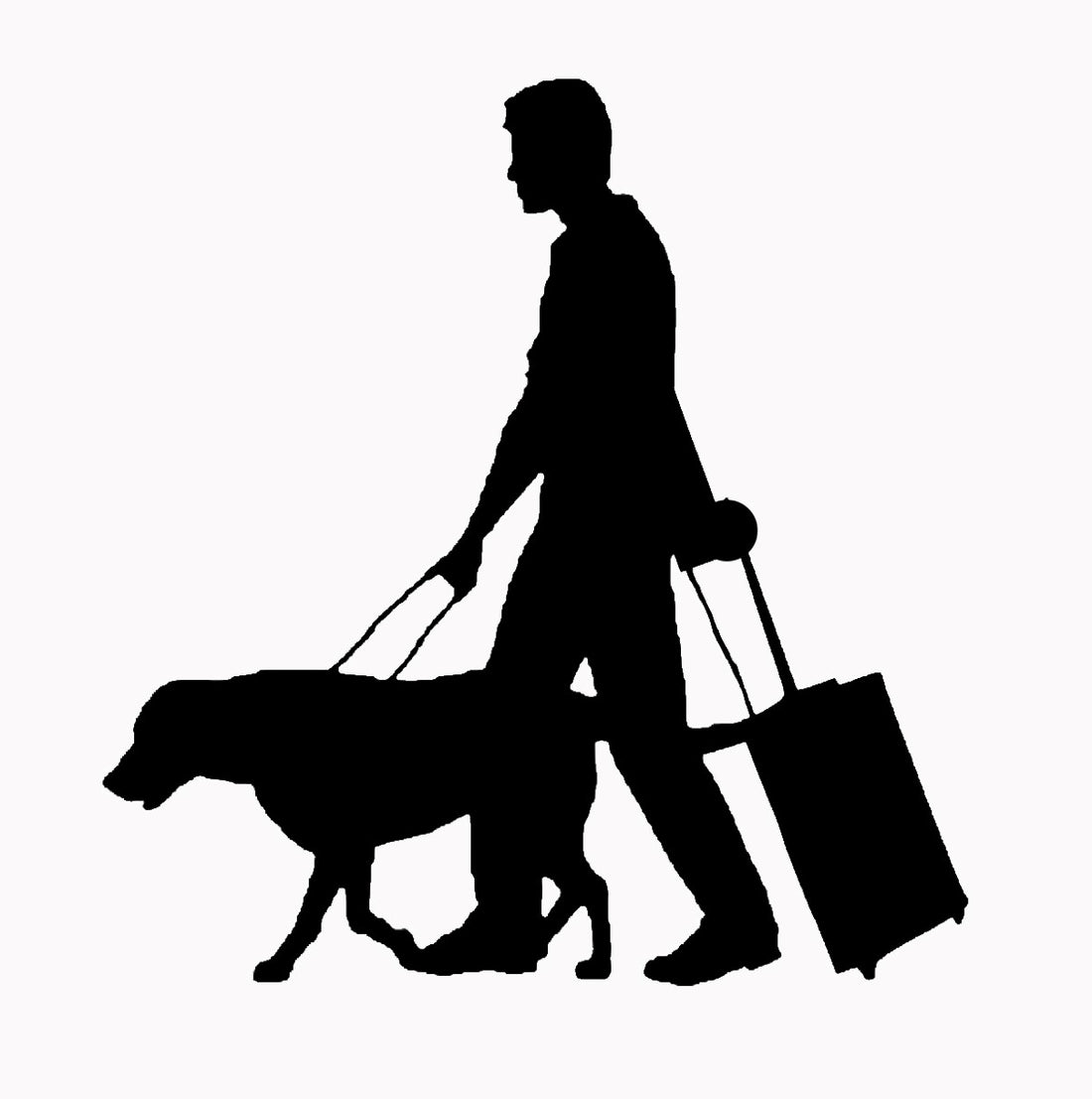 Spring Break: Traveling While Blind or Low Vision
As much as I enjoy traveling the country, it can sometimes be a bit of a struggle if you are low vision or blind.  Even for a seasoned traveler like myself, who has traveled to over fifteen different countries and counting, airports can be tricky because they are never the same configuration or as accessible as they potentially could be. Additionally, finding assistance at the airports can be daunting, even for those with normal vision.  However, in this modern technological age, knowing there are options, being able to plan ahead, and a little assistive know-how for your trips can significantly ease some of your traveling headaches.
I often wonder how people with disabilities could navigate the airports and trains 50, 60, or 70 years ago.  There were no mobile apps or adaptive devices that would tell you where to navigate.  My grandmother, Princess Stewart, traveled the world as a gospel singer for many years.  She traveled the world, through France, England, Australia and throughout the US, while being blind from birth. She had some assistance, I am confident, but from my understanding, she was quite independent and relied on her cane and very few people to assist her. Perhaps this somehow rubbed off on me, and my excitement about traveling is because of her.
So today, in this information age of adaptive technology, I'd like to give you a few tips that may help you overcome some of your traveling difficulties and fears. So grab your cane or guide dog, and phone battery charger, and let's talk travel.
It is estimated that the United States has the second-largest travel market in the world, averaging about 370 million travelers a year.  And the US Department of Transportation Service estimates that 27 million of those travelers were disabled. More than enough, in my opinion, for airports and other means of transportation services to look deeper into and step up their services for those who are blind or visually impaired.  I believe that, in time, these things will continue to improve as more of us travel to this great land and beyond. But in the meantime, let's talk preparation.
Preparation
Whether traveling to the airport using your local public transportation or ride sharing services, the key is preparation. There is no worse feeling than missing a flight. Additionally, all it can take is one missed connection in an unfamiliar airport to throw everything off, so preparation is critical to making your trip less stressful. We suggest trying to fly direct to reduce the amount of coordination required with multiple airports, however, direct flights can be expensive. In the case where you have connecting flights, allowing yourself enough time for every connection will reduce anxiety about navigating the airport and increase your chances of arriving to your destination on time. 
TSA Cares – Travel Hotline – USA only
Once I'm at the airport, where do I go? Well, TSA Cases has a solution! TSA Cares is an excellent helpline that provides travelers with disabilities assistance during the security screening process.  Call TSA Cares 72 hours before traveling with questions about screening policies, procedures, and what to expect at the security checkpoint screening. You may also request additional assistance during your call with TSA screening by using the Contact Center Form by clicking on the link https://www.tsa.gov/contact-center/form/cares or filling out a TSA Notification card which you can put into details that you would want the Agent to know, for example, if you have a guide dog or if you prefer being guided by a particular arm or even wheelchair.  The more information you add to the card, the better the agent can assist you.
Once you reach out to TSA Cares 72 hours before your departure, an agent will call you a day before your flight to confirm your travel information.  On the day you arrive at the airport, a TSA agent will assist you with getting from the ticket counter or a designated pick-up spot and take you to your TSA screening checkpoint, in addition to assisting you with getting through the checkpoint. 
Mobile Applications
Aira Mobile App - combining the latest technology with human interaction.
Aira is a GPS-based app that offers guidance and service for users who are blind or low vision through the use of the user's cellphone camera. Aira's 24/7 service connects travelers who want personalized information to professional, in-country agents who describe the traveler's environment and use the Aira Information Dashboard (AIDTM) to access the internet, airport details, and more.
The Aira app uses the user's camera and video, enabling an Aira Agent to assist through visual interpreting and virtual assisting —describing, reading, explaining, navigating, planning—just about anything you can think of to get you where you need to go. Aira delivers instant access to information at the touch of a button, enhancing efficiency, engagement, and independence.
What is the Aira Airport Network?
The Aira Airport Network equips transportation authorities with the ability to make the on-demand service available to anyone when they are on the premise. Over 50 airports are members, and over 5% of all large hub airports partner with Aira.
Navigation made simple
Remote, live Aira Agents provide real-time personalized instructions and information via the free Aira mobile app. Travelers can freely and confidently move through crowds, avoid obstacles, and arrive at their desired locations on time, improving their overall experience. This app is truly a game-changer.
Aira List of Airports as of 2/20/2023
Austin-Bergstrom International Airport
Baltimore/Washington International Thurgood Marshall Airport (BWI)
Boston Logan International Airport (BOS)
Bradley International Airport
Buffalo Niagara International Airport (BUF)
Charles M. Schulz Sonoma County Airport (STS)
Charlotte Douglas International Airport (CLT)
Columbus Regional Airport (CMH)
Dallas Love Field Airport (DAL)
Dane County Regional Airport (MSN)
Denver International Airport
Edmonton Regional Airports Authority
El Paso International Airport (ELP)
Fort Lauderdale-Hollywood International Airport (FLL)
Gatwick Airport (LGW)
General Mitchell International Airport (MKE)
George Bush Intercontinental/Houston Airport (IAH)
Greater Rochester International Airport
Green Bay Austin Straubel International Airport (GRB)
Indianapolis International Airport (IND)
JFK
JFK International Air Terminal (JFK-T4)
John Glenn International Airport (CMH)
LaGuardia
Los Angeles International Airport (LAX)
Manchester-Boston Regional Airport (MHT)
McCarran International Airport (LAS)
Memphis International Airport (MEM)
Metropolitan Transportation Authority
Miami Int'l Airport (MIA)
Minneapolis–Saint Paul International Airport (MSP)
Newark
Niagara Frontier Transportation Authority
Northern Kentucky International Airport (CVG)
Omaha Eppley Airfield (OMA)
Philadelphia International Airport (PHL)
Phoenix Sky Harbor International Airport (PHX)
Rickenbacker International Airport (LCK)
Sacramento International Airport (SMF)
Salt Lake City International Airport (SLC)
San Antonio International Airport (SAT)
San Diego International Airport (SAN)
Seattle-Tac International Airport (SEA)
Sonoma County Airport
Southwest Florida International Airport (RSW)
Spokane International Airport (GEG)
St Louis Lambert International Airport (STL)
Pete-Clearwater International Aiport (PIE)
Sydney Airport (SYD)
Syracuse Hancock International Airport (SYR)
Toronto Pearson Airport (YYZ)
Tucson International Airport (TUS)
Vancouver International Airport (YVR)
Wellington International Airport (WLG)
Wichita Dwight D Eisenhower National Airport (ICT)
William P. Hobby Airport (HOU)
Winnipeg Airports Authority
Worcester Regional Airport (ORH)
Sadly, this service is not currently available for the Chicago airports.
NavCog App
NavCog app provides turn-by-turn navigation for diverse users (e.g., blind users, wheelchair users, and general pedestrians) by BLE-based precise localization.
NavCog is an indoor/outdoor navigation App that aims to help people with visual impairments explore the world without vision. This App provides customized navigation and direction. It is also helpful for people who need to become more familiar with inside buildings and vast and complex places such as universities, airports, hospitals, and shopping malls.
It provides turn-by-turn navigation by using BLE-based precise localization. The navigation area of the App can be found at the support URL.
 

iOS 10.0 or later

 

Localization is optimized for iPhones with barometer sensors.
We Have Arrived! Now Where's My Stuff?
Imagine, if you will, taking your very first flight to Seoul, Korea, for a 16-hour flight, being dropped off at 3 AM at the Olympic Village, pitch black, in the dead of night, and being told to find your bags that match hundreds of other beautiful red, white, and blue bags. Thankfully, I added a textured, florescent green strap that wrapped around the handle of my bags, and after 3 hours, yes 3 hours, I was able to locate my luggage. It was beyond stressful.  But thankfully, there are solutions for such great moments like this.   
Apple Air Tag – iPhone/iPad
AirTag is a super easy way to keep track of your stuff. Attach one to your keys. Put another in your luggage. And just like that, they're on your radar in the Find My app, where you can track down your Apple devices.  If your AirTag is nearby, your iPhone can lead you straight to it with Precision Finding. Thanks to ultra-wideband technology, you'll see the distance to your AirTag and the direction to head in.
How does it work?
Your AirTag sends out a secure Bluetooth signal that nearby devices in the Find My network can detect. These devices send the location of your AirTag to iCloud — then you can go to the Find My app and see it on a map. The whole process is anonymous and encrypted to protect your privacy. And is efficient, so there is no need to worry about battery life or data usage.
Samsung Galaxy Smart Tag
The Galaxy SmartTag is a tracking device attached to easily lost objects like luggage. Using Bluetooth LE, the device can be located with SmartThings mobile app. Another variant, the Galaxy SmartTag, uses ultra-wideband technology to find the device and was released in April 2021.[2] Only limited phones that are more recently produced and manufactured by Samsung support such features. While the device is inside the Bluetooth range (120 meters), it can play a ringtone using its inbuilt Piezoelectric speaker to alert the user of its exact location audibly, using a volume between 85 - 96 dB (unobstructed). Suppose the device is outside of the Bluetooth LE range. In that case, the device can still be located using Samsung's SmartThings Find Network, which uses the internet connection and GPS location of other Samsung Galaxy phones in the area to pinpoint the location of the SmartTag to the owner anonymously.
Please note that I only recommend using these devices for your luggage.  These are, after all, tracking devices, and I feel they are best suited for your luggage and travel needs.
Friends & Family
Lastly, this may sound like a cop out, but why not travel with a friend or family member? I remember a time in the 90s when you were allowed to escort a friend or family member who was blind or low vision to their gate.  You would go to the ticket agent, check them in, and request permission to escort them inside, past security, and to their gate, even if you were not traveling with them.  This is, of course, no longer an option in these modern times.   However, traveling with friends or family can dramatically ease your stress levels and get you through checkpoints quickly and easily.  As independent as we are, it's ok to want that extra secure feeling of getting to your destination and what better way than to share a great trip experience with a friend or family member.