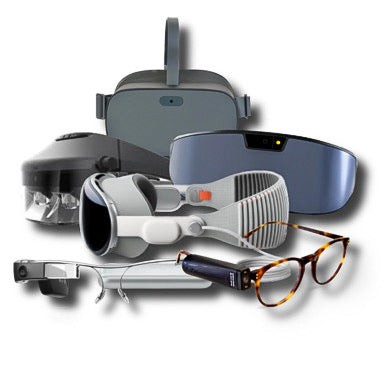 Embracing The Future: Wearable Technology Becoming The Norm
Technological advancements have revolutionized how we live, work, and interact with the world in recent years. This progress has been particularly impactful for individuals with low vision, thanks to the emergence of adaptive wearable technology. These innovative devices, such as IrisVision Inspire, OrCam Pro, the Vision Buddy, and Zoomax Acesight, to name a few, are transforming the lives of people with low vision, enabling them to overcome challenges at home, school, and work and embrace greater independence. In this blog, we will explore how wearable technology is becoming the norm, providing a glimpse into the promising future for those with low vision.
OrCam MyEye Pro:
The OrCam MyEyes Pro is a remarkable wearable voice-activated reading device designed to assist individuals with low vision in overcoming various visual challenges. This compact and discreet device magnetically attaches to the user's eyeglass frames, making it easy to use. Equipped with a high-resolution smart camera, the OrCam Pro utilizes advanced image recognition technology to read text, recognize faces that you program into the device, identify products, and describe scenes using simple voice commands. Users can also point at text or objects, and the device will discreetly provide audio feedback, allowing them to listen to the printed material they are viewing. Whether reading books, checking the color of your favorite shirt, or scanning a barcode in the grocery store, the OrCam Pro enables users to engage with the world more efficiently, enhancing their overall quality of life. The device's seamless integration with connecting to your glasses or hanging it on the included lanyard makes it a valuable portable reading tool for the user.
IrisVision Inspire Wearable Electronic Magnifier:
IrisVision Inspire is a wearable device with hardware and software that utilizes cutting-edge technology to enhance vision for people with low vision conditions such as macular degeneration and glaucoma. Combining a virtual reality headset with a This vivid, high-definition view offers instant autofocus and an industry-leading 70° field of view with up to 14X magnification for distance, intermediate, or near tasks, a high-resolution camera, and powerful software; IrisVision allows users to magnify and clarify their view of the world. This wearable device helps individuals regain their ability to read, watch TV, recognize faces, and navigate their surroundings.
Oxsight Onyx Smart Glasses:
Designed to enhance visual perception, Oxsight Onyx Smart Glasses utilize augmented reality technology to assist individuals with low vision. These glasses enhance contrast, improve depth perception, and provide real-time visual information. With the ability to identify objects and text and even recognize faces, the Oxsight Onyx Smart Glasses offer users a new level of independence and empowerment.
Envision Glasses:
Envision Glasses, similar to the OrCam Pro,  combine the power of artificial intelligence (AI) with a lightweight wearable device. This device can read text aloud, detect colors, identify objects, and even recognize faces. By employing the latest advancements in image recognition and natural language processing, Envision Glasses assist users in reading menus and accessing printed materials.
Vision Buddy Low Vision TV Watching System:
For individuals with low vision who enjoy watching television or even playing their favorite video gaming system, Vision Buddy provides an exceptional solution for users. This wearable technology incorporates a lightweight headset with a magnified and personalized viewing experience.  The Vision Budy headset is designed with three modes for tv, magnification, and reading.  And with the update, the computer Link now allows users to view their desktop within the headset.  Just impressive. With adjustable magnification levels and a comfortable design, the Vision Buddy system enables users to enjoy their favorite shows and streaming apps with clarity and ease.
Zoomax Acesight Wearable Technology AR:
Zoomax Acesight provides a hands-free and immersive visual experience. The lightweight headset features a high-definition camera that captures the user's surrounding environment and displays it in real time on small screens in front of the eyes. With customizable magnification, the user can magnify up to 15X with its controller, which allows you to change the contrast color enhancement and adjust color inversion. The Zoomax Acesight empowers users to navigate their surroundings confidently.  Acesight is ideally suited to individuals with a visual acuity range from 20/100 to 20/800 who may have eye conditions such as macular degeneration, glaucoma, and diabetic retinopathy.

Enjoy everyday activities, such as watching television, viewing faces and objects, reading/writing, or playing cards. 
Apple Vision Pro:
Apple Vision Pro is an eagerly anticipated wearable device with great promise for low-vision individuals. While specific details about the device are not publicly available, Apple's strong commitment to accessibility and innovation in their products suggests that the Apple Vision Pro will revolutionize how people with low vision interact with the world. Building upon its expertise in artificial intelligence, adaptive apps, augmented reality, and user-friendly design, Apple is expected to deliver a wearable device incorporating cutting-edge features like AI-driven object recognition, voice control, and haptic feedback. The Apple Vision Pro can empower low-vision users, providing enhanced independence and a more inclusive and immersive experience in their daily lives. With Apple's track record of delivering intuitive and inclusive products, the Apple Vision Pro will likely be a game-changer in adaptive wearable technology.
In conclusion, adaptive wearable devices are becoming increasingly prevalent in the lives of individuals with low vision.  The key is to continue to advance and evolve the technology while keeping the cost down for customers.  And above all else,  continue to expose those technologies to people who need them the most. 
To learn more about wearable technology, head to the Chicago Lighthouse mytoolsforliving.com site and take our My Technology Finder quiz to find products specifically geared towards your needs. Find out more by clicking (here) 
You can also make an appointment with our Assistive Technology team to come in and try out some of our great wearable technology products.  It's a great way to test and demo some of the top-selling wearables on the market today.